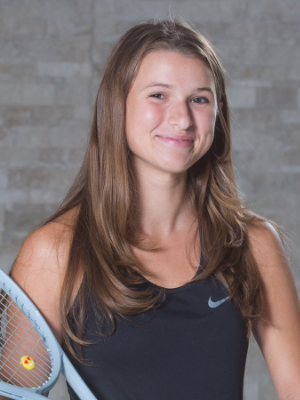 Lily Cade '23 entered the state tennis tournament on October 28 the highest-ranked member of the Cretin-Derham Hall tennis team.
She found her passion for tennis at an early age. After trying a couple of different activities, nothing clicked quite as quickly as her love for tennis.
"I was only six, but had somehow fallen in love with a sport I just started," Cade explains. "As cliché as it sounds, I knew instantly that tennis would become an integral part of my life."
Cade's zeal for tennis is clear to anyone that watches her play. Norah Barret '23, one of Cade's varsity teammates, describes it, "The most intense focus, like a fire in her eyes."
"The only thing that can stop me is the occasional angry bumblebee upset by my racket, lovingly known by the team as the giant flyswatter," Cade laughed.
In 2019, when Cade started out as a ninth grader at CDH, she was taken under the wing of many older tennis players as they shared the bond of spending summer days together out on the courts.
"The Varsity girls were my first exposure to any students at CDH, and they immediately welcomed me without a second thought," she said, "All of the nerves I felt about coming to a new school disappeared."
Despite her demanding athletic schedule, Lily takes advantage of the broad array of Honors and Advanced Placement classes that CDH offers, as well as participating in Mock Trial and Sustainability Club. "My teachers have been so accommodating of any needs that I have," she said, "I am able to prioritize my education while also pursuing athletics."
Cade shines on the team not only as a talented athlete, but also as a beacon of optimism, teamwork, and leadership.
Barret explained, "When I'm having a tough loss I know Lily will be there to cheer me up, and when I'm winning I can count on Lily to be the loudest voice from the bleachers."
At the State tournament, Cade lost her first match against the #1 seed from Maple Grove, beat her next opponent from Forest Lake in the consolation bracket, and then lost her third match against a girl from Orono. Cade is proud of how hard she worked this season and grateful to have done it with wonderful teammates.
"I couldn't feel more lucky than to have spent the season with this amazing group of girls and a community that supports me on and off the court," Cade said.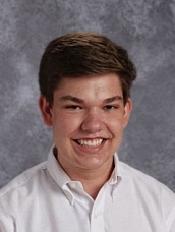 Joe Peterson '23 is a transfer student who is excited to be part of the Cretin-Derham Hall community. In addition to being a Communications Apprentice, he is involved in theater and tennis, and works part time at a coffee shop.