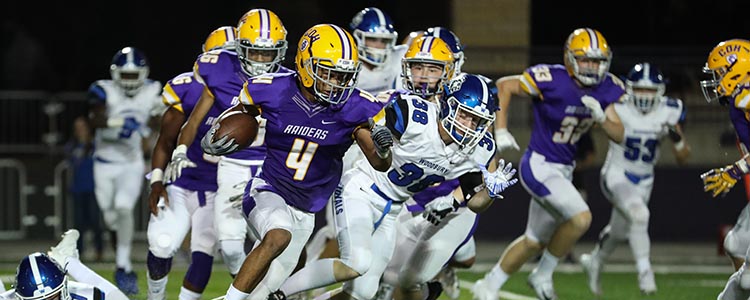 Rajiv Redd '19 has been named a Scholar-Athlete by the Minnesota Chapter of the National Football Foundation.
Redd is a starter in each of the past three seasons. He was a top defensive player, with highlights like a game-winning two-point conversion and an 89-yard kick return touchdown in Cretin-Derham Hall's playoff game against T South. Redd tallied 54 tackles and two interceptions this season, and 69 tackles and an interception last season. He also competed in Track and Field. Redd plans to continue his football career at Wagner College in New York.
"Rajiv's work ethic and leadership both on the field and in the classroom over the last four years have been extraordinary! He is a fine example of a Cretin-Derham Hall student-athlete and we are proud to have him represent CDH as he launches into his college career," said Phil Archer '99, Athletics Director.
In addition to his athletic success, Redd was an Academic All-State honoree and a consistent honor roll student. He was selected to travel to New York to participate in Morgan Stanley's job shadow program, during which he spent a day with the company's international markets division and had lunch with the CEO. He plans to study business/finance in college.
Redd has given back to the community in various ways throughout his time at CDH. His volunteer efforts include watching children at a battered women's shelter while their mothers attend appointments, working on literacy skills with fifth graders at a local school, helping prepare Section 8 housing for new residents, and serving as a youth advocate for Gujarati Samaj, a local non-profit organization.
The Minnesota Chapter of the National Football Foundation will host the 12th Annual Minnesota Football Honors on Saturday, April 27, 2019, at U.S. Bank Stadium. The event is presented by the Minnesota Vikings and is the largest football awards event in Minnesota. Doors open at 2 p.m. for the 4 p.m. event. The event is open to the public. For additional information about this year's Minnesota Football Honors and to purchase tickets, please visit www.minnesotafootballhonors.com.