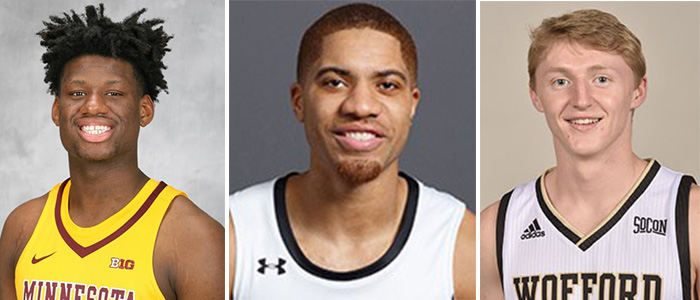 Daniel Oturu '18, Donnell Gresham Jr. '15, and Ryan Larson '18
While you're filling out your brackets, make sure to root for the three Raiders who are playing in this year's NCAA tournament!
Daniel Oturu '18 is a Center for the Minnesota Gophers, who are a 10 seed in the East bracket. Their first game will be against the Louisville Cardinals at 11:15 am on March 21. This is the Gophers' 13th appearance in the tournament. Their best run was in 1997, when they reached the Final Four.
Donnell Gresham Jr. '15 is a Guard for the Northeastern Huskies. Northeastern University, located in Boston, is a 13 seed. They'll play the University of Kansas at 3:00 pm on March 21. Northeastern has been in the tournament nine times, with their most recent appearance being in 2015.
Ryan Larson '18 is a Guard for the Wofford Terriers. Wofford College is located in Spartanburg, SC. They're a 7 seed and will play Seton Hall at 8:40 pm on March 21. This is Wofford's fifth tournament appearance since 2010.
"These three players, along with others, have created a winning culture that we are very proud of and represent the CDH community with great integrity," said Varsity Assistant Boys Basketball Coach Tony Yazbeck. "Our program is extremely proud to have produced players who have shown great skill and leadership."